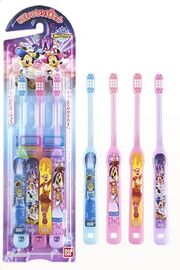 The KiraKira Shiny Star 3-Set Toothbrush is official merchandise released by Bandai in March 2017.
It is available for 380 yen.
Three Brushes
Four Vertical Character Stickers
Four Box Stickers
Appearance
Edit
Three brushes are available in the box, coming in pink, blue, and purple. The bristles for the top are colored darker than the brush, with the center colored white. A hole rests at the bottom of the brush for the owner to attach the brush to various things.
For the brushes, the owner can pick between four stickers to decorate them. These are based on various Disney characters, with one featuring Cinderella and her carriage, one with Alice and the Queen of Hearts, a gold sticker with Piglet, Pooh, and Tigger, and lastly, one with Mickey and Minnie donning their Shiny Star coords.
Besides these stickers, there are also smaller, box-shaped stickers for other parts of the brush. These come in purple, pink, blue, and yellow.
Community content is available under
CC-BY-SA
unless otherwise noted.