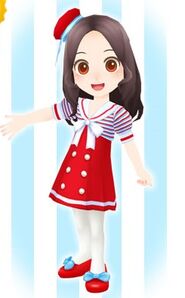 The Donald Red Girly Coord is a coord released in the latter half of Wave 1 of KiraKira Shiny Star. It is a Promotional coord released for the KiraKira Shiny Star Gummies and resembles the Donald Girly Coord.
It is from the Brand Mickey and Friends.
Appearance
Edit
Donald Red Girly One Piece & Pumps
Edit
A short red dress with semi-pleat and white lining to match the buttons and top of the chest. Thin rings of blue and red stripe the blouse. The cuff and collar are solid white with a single red line around the middle. Included are red shoes with a pale blue bow on top of the foot, worn with white tights.
Donald Red Girly Mini Beret
Edit
A red beret hat with a ribbon of pale blue and white striping wrapped around the bottom.
Coord Box
Edit
| Dress & Shoes | Accessory |
| --- | --- |
| Donald Red Girly One Piece & Pumps | Donald Red Girly Mini Beret |
Merchandise
Edit
Official Art
Edit