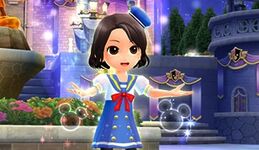 A
Sparkling Aura
is a special item Players can obtain to decorate their character for performances.
They can be obtained in various ways and range from basic circles around the players waist to the larger, shiny aura that covers the player and spreads out around them.
The Aura can also be stacked to combine two types together.
List of Aura
Edit
Star Light - A ring of gold glitter with stars, some small and solid colored in yellow or white, while the others are larger and shaped like a star.  
N/A - A ring of red bubbles shaped like hidden mickey heads.
N/A - Bubble-like hidden Mickeys either in pale blue or pale red with matching glitter.
N/A - Blue, pink, and gold glitter surrounds the Player, along with hearts and glowing blue tea cups. Lilac ornaments hang above the Players head.
N/A - A gold glittering Aura that rains down on the Player. Two blue and yellow honey pots circle the Players feet.
Lucky Float - A small white glittering Aura that outlines the character with two glowing floats circling their lower half.
N/A - A white glowing outline with two anchors. Around the Players feet are glitters of pale red and blue.
N/A - White glitter and snowflakes surround the Player.
N/A - The player is outlined in a white glow to match the glitter surrounding them. Two white ribbon also circle them.
N/A - Large yellow sunflower circle the torso.
N/A - Green clovers circle the torso.
Mickey Dream Light - Blue, Yellow, and Red glitter surrounds the player, along with white bubbles shaped like Mickey's head turned to the side.
___ Ribbon - Red ribbon with white dot print surround the player, based on Minnie's bow.
Easter 1: Pink eggs with minnie eyes, ears, and a bow swirl around the player.
Easter 2: Pale pastel eggs rotating around the player, one of which is cracked open.
Easter 3: Eggs and flowers swirl around the player.
Halloween 1: Black and orange check cookies.
Halloween 2: A witches hat
Halloween 3: Two ghosts reminiscent of Mickey and Minnie Mouse.
The Aura feature in this game is a lot like the one featured in Aikatsu! and its spin-off Aikatsu Stars!

Unlike the Aikatsu series, this one allows the Player to combine Aura and choose the one they want, rather than having it pre-set depending on the coord or character used.
Community content is available under
CC-BY-SA
unless otherwise noted.